Edgar Degas was famous of painting ballet dancers. As an oil painting artist almost everybody knew him.
Degas was a frequent guest of Palais Garnier. He had never lost interest to ballet. In his late life, ballet was the main painting subject of his art works. Degas had never being so infatuated to other painting subjects, and he had never worked out his personal painting style by other oil painting style.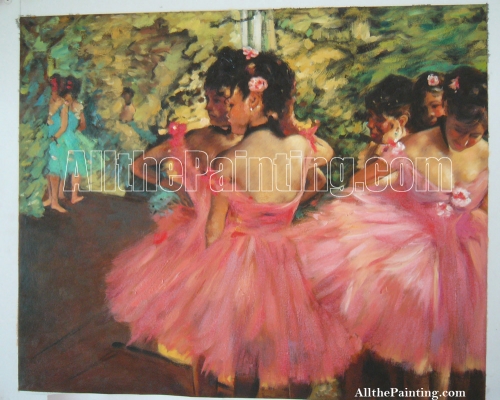 Degas was interested in ballet not because the ballet dancers were all beautiful girls. He followed with interest in the effects of light and shade. That could be used to show the way of movement and space..
Edgar Degas' early oil painting objects had ever included audiences, musicians and ballet dancers on the stage. But later, he was not satisfied with watching as a audience. He wanted to go the back stage of the colorful world to see what was happening.
There were not stories in Degas oil paintings. He just described ballet dancer's daily life that simple, insipid and duplicate. Young girls caught the banisters and stretched their bodies. They practiced many postures, waiting on the backstage and listening to the teacher's directions, fastening shoes, rubbing their muscles, tidying the dancing skirt; even combing hair by hands, thinking and chatting in small groups…
The spring time was going so fast. The trees bloomed in the street, the light was soft, the air was fresh. Like always, Degas went to the theatre in the early morning. On the way, he was relax and joyful. Degas stood out the window, watching them silently. Young girls in the white dancing skirt, fasten silk belts in yellow, green, red or blue.
Ballet girls were gentle and graceful, dancing and singing, like a group of butterflies, flying in the sunshine. The ballet teacher stood in the center of the stage in a dignified manner, with a long stick in his hand. Young girls stood in the corners of the stage in three of five, resting and watching. The two girls were waiting to dance. One with a fan in her hand, another dancer held her head turning her body and scratching her back. The mean and pretty action didn't slip out of Degas' eyes.
Maybe she noticed that, then blushed her face. With graceful dancing step and beautiful whirling, girls were dancing with sunshine.
As a son of banker, Degas was well educated. He could paint very well already before entered a school of art. Degas well combined the traditional oil painting literary sketch and the impressionism painting color style. That's why Degas' oil painting was named as Classical impressionism.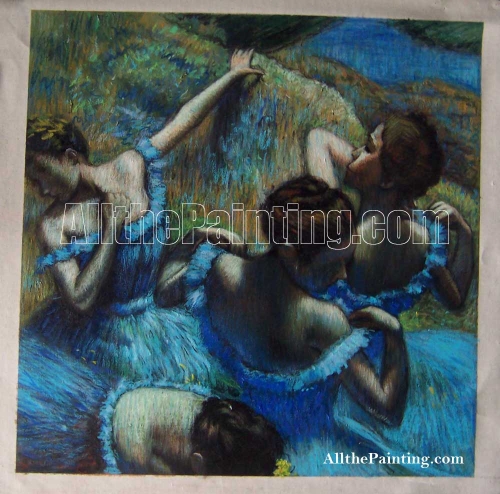 Degas' attitude to art was so serious and faithful. He was high-minded. He had ever said that he had only one heart that could only dedicated to his art. Degas lost his sight of both eyes in the late age. That forced him stayed in house and painting by was crayon. Degas' oil painting Four Dancers was not a crayon painting, but the touches were free and easy like a wax crayon painting. The four ballet girls danced backwards out of the oil painting composition. At the instance of their turning for leave, we are shocked by the oil painting. The painting color was vivid, catching eyes, bright like a rose.
In a gloomy raining day, Degas sat in the room by himself. Suddenly he remembered a word of a poem: don't think I'm only here when you see I'm here. He were standing on the sea shore enjoyed the sun light dancing on the waves, the delicate and charming skirt were turning color all the time. A ballet dancer was walking close slowly. Degas tried his effort to paint a new ballet painting and dropped himself to the sunshine forever.